April is your month. The 29th, your day. Every year I sing "Happy Birthday." I hope that somehow you can hear me and know you're not forgotten.
Today is your birthday. You would have been 15.
And I wonder, if you'd lived, how would you be? Would you be a thinker like your older brother, Brian, whose insight into people and relationships rivals that of Drs. Phil or Joyce Brothers? Or would you be like little Joey, a doer, with an uncanny ability to fix anything mechanical?
Which one of our dogs would you have claimed? Brian favors Brandy, our sweet and gentle Shih Tzu, while Joey's favorites are the energetic, timid Einstein and the giant Angel.
When would you have stopped calling me Mommy, and begun to call me Mom? When would you have lost your first tooth or training wheels off your bike? How would you have felt about No Nonsense Teacher, Mrs. Bayley? Would you have started shaving at 12, like Brian, whose 5 o'clock shadow fools people into thinking he's in his twenties instead of just a kid in high school?
I also wonder...Would you have been one of the luckier survivors of your birth defect? Or would you have needed Oxygen and a feeding tube? Would you have been on the Honor Roll, like your brothers, or would those precious minutes you couldn't breathe have resulted in your being learning-disabled?
All I know is no matter what, I would have loved you. I love you, still, after knowing you for those nine months, and the 15 hours you lived outside my person.
In Heaven, do babies STAY babies? For that is how I remember you and always will. My newborn baby, Sean, forever my baby.
April is your month. I'll remember you always.
---
"In Memory of Sean" by Susana Maria Rosende
My son, Sean Matthew, was born on April 29th, 1988 in St. Peter's Hospital, New Brunswick, NJ. When Sean couldn't breathe on his own, X-rays revealed he had Congenital Diaphragmatic Hernia (CDH).
Sean survived the surgery that repaired the hole in his diaphragm. The plan was for him to be flown out-of-state to Pittsburgh's Children's Hospital, and be placed on the only available lung bypass machine.
Sean never made it to the Pittsburgh Airport. He died during the flight, having lived only 15 hours.
Though his life on earth was short, and I was permitted to hold him for just a few seconds before he was rushed off to surgery, Sean has had a profound affect on my life and that of his brothers. I will always love and miss Sean. He is in my heart, forever.
---
Nine months pregnant with Sean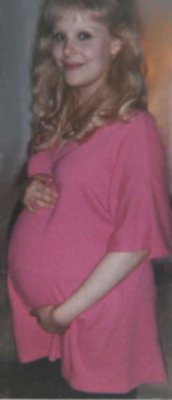 At nine months pregnant, I was looking forward to bringing my second little boy home. My first born, Brian, was 18 months old. My then-husband, Michael, and I had recently purchased a real bed for Brian, leaving his crib for the new baby. Since we knew that I was once again pregnant with a boy, we picked a boy's name right away, and always referred to the baby as Sean. Ironically, the ultrasound revealed the sex of our child, but not the birth defect.
Brian, at 18 months, with Mommy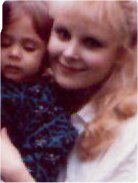 Preparing for a life with two little boys, we painted their room blue and decorated it with Disney characters. We dreamed of our lives as a family of four, with two little boys growing up together, both in Little League, going to school together, double dating, being best friends.
Our dream shattered in pieces, with the shock of Sean's birth defect and death, and culminated in the breakup of our marriage and family.
---
April 29th, 2003 is the 15th anniversary of Sean's birthday. His big brother, Brian, is 16 1/2, plays guitar, and attends his high school's International Baccalaureate (IB) program, a rigorous, college prep curriculum recognized by colleges and universities in more than 70 countries! Despite his heavy homework schedule, Brian is also the family's standup comedian, musician, and artist.
With Brian and Joey, 1994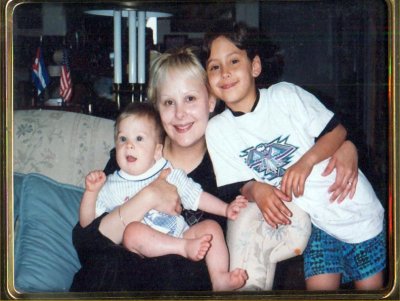 Five years after Sean, there is another brother, Joey. Joey is in 4th grade and almost 10 years old. Intelligent, mischievous and always on the go, lovingly dubbed "Dennis the Menace" by family and friends, Joey takes everything apart to "see how it works," enjoys anything to do with computers, and doesn't let his Asthma get in the way. He dreams of being an Inventor.
With Brian, 16, and Joey, nine in 2002.
Sean would have been 14.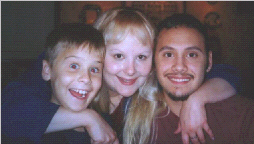 I have a full life as a single, working Mom to Brian and Joey, but I'll never forget my second-born, Sean. I wonder what Sean's dreams and talents would have been, and I regret that I hardly had a chance to hold and kiss him, and never helped him with his homework, or even scolded him for teasing his little brother or missing curfew.
When I say I have two boys, I always think three. In my heart, I love Sean as much as I love his brothers. I will always miss him.
My son, Sean Matthew Lutz, April 29-30, 1988

---
For more information about Congenital Diaphragmatic Hernia (CDH) or parent support sites, see: